In Germany, a lot of people think I'm pretty hardcore because I'm Australian. Of course, we've all seen those posts about how all Australian animals are trying to kill you - on land or in the water, and so is the weather... so automatically, having survived that all for this many years, I must be pretty hardy. And yes, Australia
does
have a lot of deadly animals. Australia's land and seas are full of spiders, snakes, sharks, jellyfish, stonefish, and many things beside. So yeah, in that case, Australia definitely wins.
Weather-wise though... Last winter was pretty mild - it only got down to about -10. A few years ago though, it got down to -20 (in fact, I was in Prague one day that it was -23 there. Prague is about 4 hours from Berlin, so pretty similar temperatures). So yeah, it gets cold here. But it's cool, we have excellent heating, and you can (usually) dress for the weather.
But in SUMMER... well, when it arrives, it arrives. Last week there were highs of 16 degrees... yesterday and today highs of 39. And the thing is, there's no air conditioning here (except in shopping centres and some (!) supermarkets), and as there's not really any large body of water nearby, there's no regulation from that (a river and some canals don't quite have the same effect as the sea). We also live on the third floor, and as we all know, heat rises.
So imagine this: a humid (ugh) 39-degree day, in the third storey of a building, with no air-con. Sounds pretty horrible, right? Oh, it is. But that means that not only does Germany get incredible lows in winter, it also gets super highs in summer. In Adelaide, the temperature during the day doesn't drop far below (+)14 degrees for most of winter. Yes, summer is pretty hot too, but at least there's air-conditioning
everywhere
.
But yesterday I swam in a lake for the first time! We went to Kallinchen, a 30-minute drive from where we live. It was
so
crowded, and people had little beach tents and beach umbrellas. The water was lovely and cool (according to the sign it was 23 degrees), but there were just
so
many people. And so many bratty kids. Times like this I miss Adelaide beaches. Though one good thing - there were trees, so you could actually sit in the shade without a beach tent! No photos of mine because I left my things in the car so they wouldn't get stolen, but one from the internet so you can see what it looks like.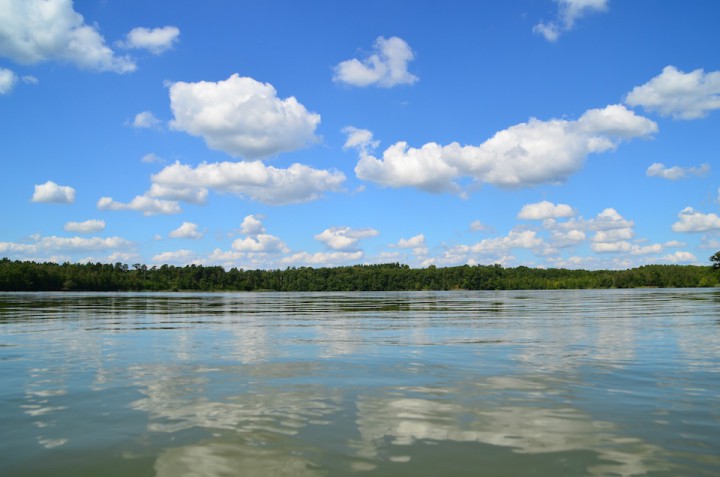 Update: thank goodness we have a fan.